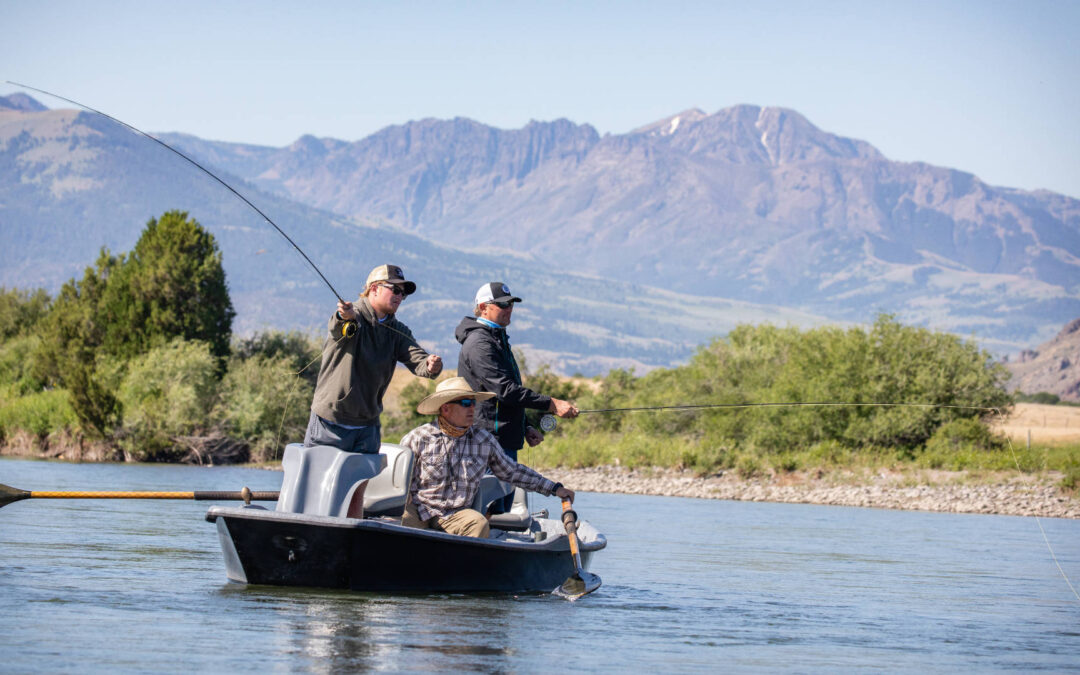 The Best Fly Fishing Trips in Montana for Beginners
There is nothing our Montana fly fishing guides enjoy more than introducing the art of fly fishing to new anglers. The joy on an angler's face that follows teaching someone to cast a fly rod, present a fly, and ultimately catch their first trout is what keeps us at it day after day. It is never too early or too late to bring fly fishing into your life. It is a sport perfect for both younger kids and senior citizens alike. While there can be an intimidating element to jumping into a new pursuit head first, our top 5 Montana fly fishing trips for beginner anglers make it easy to get out on the water and learn to fly fish with our Montana fly fishing guides.
1. Full Day Fly Fishing Float Trips in Bozeman, MT
A full day float trip with our Bozeman fly fishing guides is the best way for beginner anglers to both learn to fly fish and catch a few wild Montana trout along the way. These trips are primarily on the Yellowstone River and Madison River. Both are perfect rivers for new anglers to develop their cast and technique in a forgiving environment. April, July, August, September, and October are the best months for these trips. Bozeman, MT is also a perfect base for new anglers that are interested in a day or two of fly fishing but also wanting to experience everything else Montana has to offer with excellent outdoor activities, dining, and nightlife.
2. Full Day Fly Fishing Float Trips on the Missouri River near Craig, MT
There is no better single learning environment for beginner anglers than the Missouri River. The Missouri River near Craig, MT is "the river of second chances" with ample opportunities for learning the intricacies of fly fishing with cooperative trout. With 6000 trout per mile, 40 miles of productive trout water, and our professional fly fishing guides, the Missouri River offers the best possibility for landing a trophy trout your first day. Many beginner anglers have been spoiled for life after a day of fly fishing on the Missouri River. April, May, June, September, and October are the best months for this trip. Our guides typically book well in advance for the prime season, so we do recommend reservations made 6-8 months ahead of time on all Missouri River fly fishing trips.
3. Custom Fly Fishing Trips in Montana
For beginner anglers wanting an immersive fly fishing trip, with multiple days of guided fly fishing on multiple rivers, our Custom Montana Fly Fishing Trips are the best option. Our Montana fly fishing outfitter will work directly with you to build your dream trip. We can put together both float and wade trip options that will allow new anglers to experience the best variety of fly fishing tactics and techniques best conducive to learning. 2-5 days is the perfect trip length to come away with the skills to be able take your fly fishing to the next level. We have great custom trip offerings from April thru October.
4. Full Day Walk-Wade Fly Fishing Trips in Yellowstone National Park
We feel strongly that float trips are the best introduction to fly fishing for new anglers in Montana. There are many benefits for beginners fly fishing from a drift boat including: more opportunities, ability to focus solely on the technique, and better assistance from your guide. We also understand that wade fishing is the classic trip many new anglers associate with fly fishing, and there is no better place for a first wade fishing trip than in Yellowstone National Park. For these trips we typically have folks meet their guides in Gardiner, MT. June, July, August, and September are the best months. These trips are ideal for smaller groups of 1-2 anglers wanting a slower pace and the experience not only of fly fishing but also enjoying the wilds of Yellowstone National Park.
5. Half Day Float or Walk-Wade Fly Fishing Trips in Bozeman, MT
If you are visiting Bozeman, MT and only have a short window of time in town but want to learn the basics of fly fishing our half day trips are the best option. We offer both morning and afternoon start times with a trip length of ~4 hours. We generally stay close to town on these trips and emphasize learning the basics over just catching fish. The goal is to introduce new anglers to the sport of fly fishing and hopefully catch a fish along the way.
All of our trips for new and beginner anglers have an emphasis on learning, safety, and having fun. New anglers will get a brief casting lesson on dry land, followed by professional instruction throughout the day with our Montana fly fishing guides. Full day trips are the best option if the goal is to develop proficiency and catch a few fish. Typically, it takes the first half of the day to learn the ropes and by the second half of the day most anglers are able to hook and land trout.
Contact us today to learn more and book your first Montana fly fishing trip with Montana Angling Co.