Recommended Gear
The comprehensive list to make sure you are covered
Your Fly Fishing Gear Guide
Whether you are fly fishing for one day, one week, or one month this gear list includes the essential gear we recommend bringing to make the most of your fly fishing trip. Weather is variable in Montana and even the nicest of sunny days can turn to rain, sleet, or snow and although we fly fish through most of it, good gear can sure make it much more pleasant. We always hope for the best but plan for the worst before any day of fly fishing and recommend you do the same while packing. We have put together what we feel is a comprehensive list, most of which is available at local fly shops if needed.
Gear Provided by your Guide on Every Trip
 Fly Rod, Reel, and Line
All Terminal Tackle (Tippet, Leaders, Weight, etc.)
All Flies
Non-Alcoholic Beverages
Lunch (Full Day Trips Only)
Life Jacket if needed
Emergency Rain Gear
First Aid Kit
Recommended Personal Gear to Bring
Personal Fly Rods/Reels/Lines
Personal Tackle
Personal Flies
Personal Rain Jacket/Pants
Alcoholic Beverages
Snacks
Sunscreen
Bug Spray
Polarized Sunglasses
Boat or Wading Footwear
Hat
Wading Pack/Vest
Light Jacket
Sun Pants/Shorts
Long Sleeved Sun Shirt
Camera
Wading Staff if needed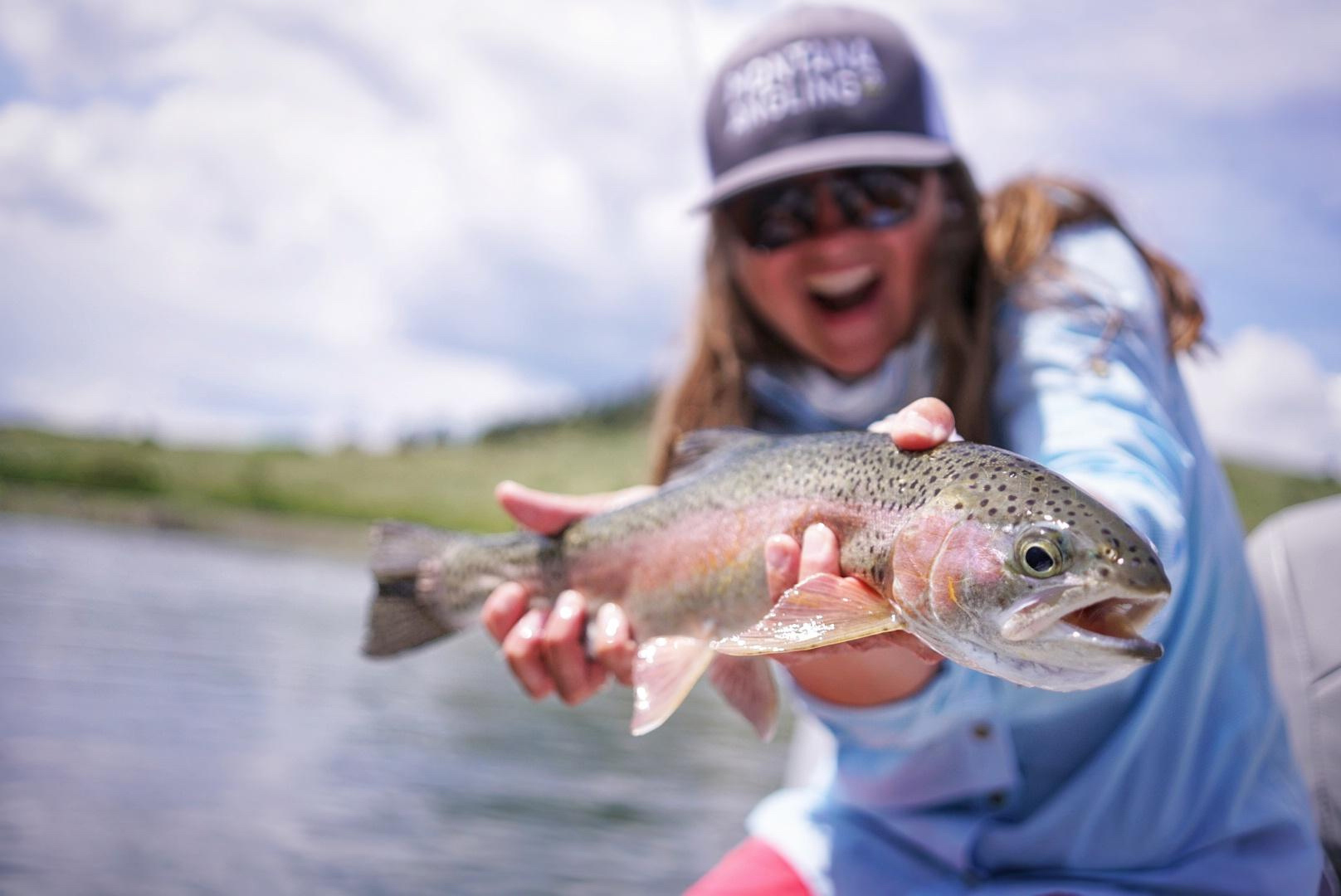 Spring and Fall or Cold Weather Recommended Gear
Spring and Fall (March, April, May, October, November) can be a special time to fly fish in Montana. Great hatches, no crowds, cool afternoons, and eager fish can make for the some of the best angling days of the year. Many days are warm and sunny with blue skies. Other days can be cold and windy. The following gear accounts for that and should be brought along during these Spring and Fall months or anytime weather is forecasted to be colder than normal.
Gore-Tex or neoprene Waders and Boots
Gore-Tex or equivalent Wading Jacket
Wading Belt
Warm Hat
Fleece, down, Polartech, or equivalent jacket
Long Underwear top and bottom
Fleece or Insulated Pant
Handwarmers
Extra Layers
Fingerless or fold-over gloves/mittens
Wool Socks
Frequently Asked Questions
What is included with a guided fly fishing trip?
A guided fly fishing trip with the Montana Angling Company includes expert guiding and instruction on one of Montana's best rivers or lakes, local transportation, non-alcoholic beverages (you may bring your own alcoholic drinks), use of rod/reel, tackle, flies, river shuttle, and a nice streamside lunch.
What is NOT included with a guided fly fishing trip?
A guided fly fishing trip with the Montana Angling Company does not include guide gratuity, Montana or Yellowstone National Park Fishing license, private water rod fees, personal accessory gear (hat, sunglasses, sun gloves, etc.), waders, wading boots, or alcoholic beverages.
What gear should I bring on my guided fly fishing trip?
Please refer to our Gear List for more information.
When is the best time to come fly fishing in Montana?
Whenever you can make it! But to break it down simply March, April, May, October, and November you can expect low angling pressure, great fishing, but variable weather. June, July, August, and September are prime time: fly fishing is great, especially the dry fly bite, and weather is generally reliable. We have put together a fishing calendar that addresses all things fly fishing in Montana you may want to consult for more detail here.
Where are the best places to stay and eat in Montana?
We have compiled a list of recommended lodging and restaurants that can be found here. Please give us a call at 406-579-9553 for personal recommendations or ask your guide, they are always good for a local watering hole or two.
What should I wear on a guided fly fishing trip?
Great question! Every angler should come prepared with sunglasses, hat, and suitable clothing and footwear everyday. In the Spring and Fall this means dressing warm in quick drying layers. Bring waders, wading boots, good rain gear, gloves and a warm hat. During the summer this means dressing cool in sun protective lightweight fishing clothes. We recommend long sleeves, pants, and water-friendly shoes. For some this means a tank top and bathing suit. Always be prepared for inclement weather. We have seen it snow every month of the year. Keep an eye on the forecast as your trip nears and pack accordingly.
Don't Wait, Book Your Fly Fishing Trip Today!