Montana Fishing Reports
Keep your head above water with the reliable and up to date information
Local Fishing Reports from the Montana Angling Co.
Count on trusted fly fishing reports and forecasts for our Montana rivers and Yellowstone National Park. We update our Montana fly fishing reports frequently so please check back often. Our Montana fishing reports cover the Yellowstone River, Madison River, Missouri River, Gallatin River, and the rest of the blue ribbon rivers near Bozeman, MT.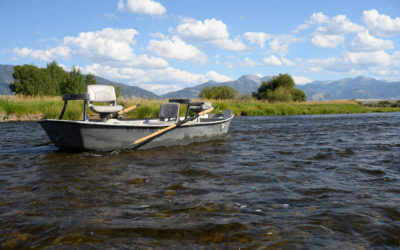 Fall is in the air in Bozeman, MT and our Montana fly fishing guides and anglers have been enjoying great fly fishing on a daily basis. We've received our first taste of cooler and wetter weather over the past week and were treated to great hatches of Blue Winged Olives (BWOs) and Fall Drakes on our Bozeman area rivers. Anglers can expect this pattern to continue through the end of the month: cooler overcast and rainy days will mean good mayfly hatches while warmer and sunnier days will continue to produce good hopper fishing. Smaller terrestrials will also continue to be important for dry fly anglers and trout as flying ants and beetles will stay on the menu. Streamer fishing has started to pick up across Montana as has the fall nymph bite on the Missouri River. Look for hatches and the fly fishing to only get better through the end of the month. Late September is one of our favorite times of the year to fly fish in Montana: quiet river and strong hatches make for fun days on the river. Our guide's calendars are just about booked for September but still time to plan your Fall fly fishing trip to Bozeman or the Missouri River in October.
read more
Don't Wait, Book Your Fly Fishing Trip Today!