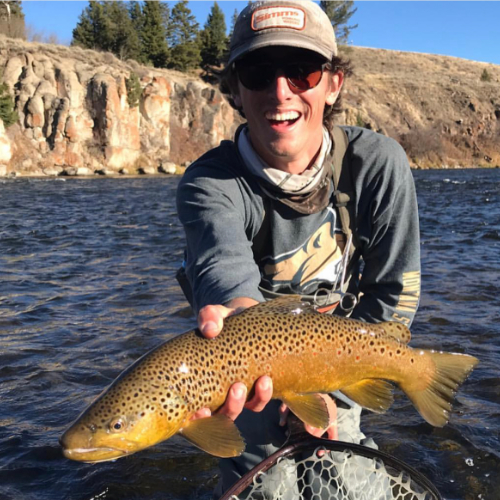 Spencer Wallace
Spencer Wallace grew up in Healdsburg, CA spending his days fishing the local Russian River for many different species. Living in this area his first love with a fly rod was casting streamers and poppers for river smallmouth. This obsession quickly lead into a deeper passion swinging flies for steelhead and heading north in search of trout. Spencer found southwest Montana was the perfect fit.
You can find him fishing year-round on our local waters or in the high country chasing wild trout and bugling elk. You won't find a more friendly and patient guide, with a love for fly fishing in Montana that shines.
What our Anglers Say
"We didn't fish with Max but instead Spencer who was awesome. We had stayed in Bozeman and the day before it had been raining east of town, so instead of taking us to a blown out Yellowstone, Spencer drove us as hour to fish the middle Madison, it was epic. He taught my fiance to fly fish and she was catching fish on the half day float, he even recommended great spots for wade fishing the following day. My dealings with Montana Angling were nothing but great, Max took plenty of time to answer all my questions ahead of time and made sure the trip went flawless. When we return to Bozeman I will book with Montana Angling Company again, it truly was a great experience."
-Josh C. from Salt Lake City, UT on Google Reviews
Don't Wait, Book Your Fly Fishing Trip Today!