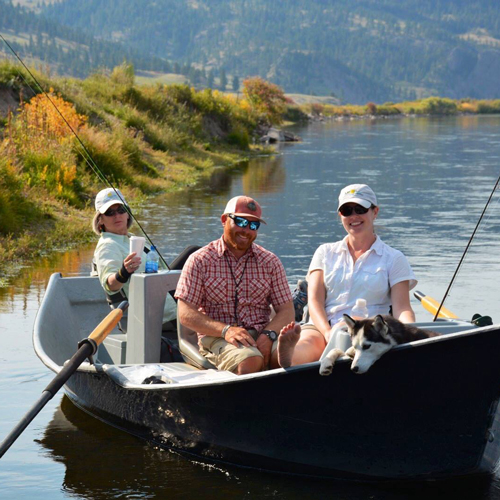 Craig Boyd
Canadian by birth, Montanan by heart, and full blown fly fishing fanatic, Craig has made guiding anglers his life's work and considers every day spent on the water his best day yet.
After college at the University of Wisconsin-Superior where he lead his hockey team to 3 NCAA Frozen Fours and chased fish on the Great Lakes tributaries, he headed west to the epicenter of the trout world in Montana and has been here ever since.
Craig's unique blend of experience, patience, and enthusiasm means you can always count on good laughs and bent rods on his boat. Guiding has taken Craig all across Montana and Chilean Patagonia where he spent his winters for the better part of a decade, but home water riffles always draw him back to the banks of the Yellowstone, Madison, and Missouri Rivers. These days Craig lives in the sleepy trout town of Livingston, MT with his lovely wife and their dogs, and can be found fishing or skiing all year-long.
What our Anglers Say
"I had the privilege of fishing with Max, Jess, and Craig. Based on their recommendation, we fished the Yellowstone and Stillwater rivers and caught countless fish (rainbows, browns, whites, and cutthroat). Their guiding expertise and deep knowledge of the rivers (and Montana in general) was obvious and made for a very enjoyable and educational experience. Max was organized and made the process seamless for us, including graciously meeting us at locations convenient to where we were staying. I look forward to many more trips with these guys and would highly recommend Montana Angling to fishermen of all skill levels." 
-Greg C. from Fort Worth, TX on Google Review
Don't Wait, Book Your Fly Fishing Trip Today!