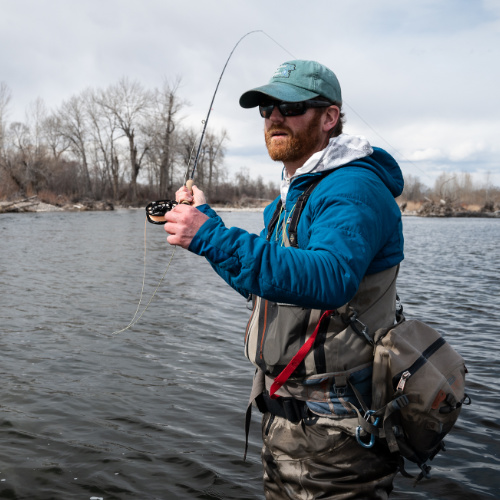 Brogan Ballard
Growing up in Denver, Colorado, Brogan has been fly fishing the Rocky Mountains his entire life. He made his way north to Montana to chase trout and make it to class in between casts at the University of Montana. After graduating he turned his focus to guiding anglers, which he has been doing for the better part of a decade.
Brogan is known for his infectious optimism, excellent instruction, and ability to work well with anglers of all ability levels. Based in Livingston, Montana, he is equally at home running the rapids of the Yellowstone River as he is wading the smaller streams of Yellowstone National Park.
In his "off-season" he puts his Master's Degree he earned along the way to good use and is a grade 3-5 special ed teacher at a local school. A day of fly fishing with Brogan is sure to be filled with lots of learning, laughing, and great fly fishing memories.
What our Anglers Say
"We fished with Brogan on two separate days. The first day was a walking/wade of small ponds in Yellowstone with my wife and son (12) whom had never been fly fishing. Brogan was incredibly patient and helped them have a wonderful first experience. In all we caught 17 fish and more importantly created a memory we have talked about every day since the trip. I did a float trip on the Yellowstone river with Brogan on the second day. High and fast moving water due to a very wet winter and spring but he consistently put me in great casting position to catch fish. I am not a novice but far from a expert. Again he took the time to explain different casting techniques , flies and strategies to land a fish in fast moving water (all of my fly fishing experience has been inshore saltwater) . While we had an amazing time the icing on the cake was the fish of a lifetime.
I highly recommend this group for anyone regardless of their level of experience. We will be back again very soon and cant wait to reconnect with this team."
-Fred H. on Google Reviews
Don't Wait, Book Your Fly Fishing Trip Today!